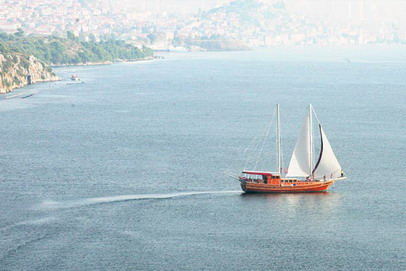 Gullet routes 2006 PDF
Gullets:
Comfort 20/24 PDF
Comfort 33 PDF
Luxury 23 PDF
Luxury 27 PDF
Luxury 30 PDF
Mini Cabin Cruiser PDF
For additional info contact us at info@croatiayachting.com
About Motorsailers
The current Gullet (Schooner) is a very similar ship to the traditional work ships, which have been fully refurbished, equipped with motor and modern equipment. It allows the charter crews to comfortably explore the beautiful Croatian coast, reviving the style and the spirit of past times.
Our schooners are motor-sailing yachts made in a traditional way, out in wood (Mediterranean arish), and they are ideally made to navigate on the warm, crystal clear waters of the Croatian Adriatic.
Croatia Yachting offers several such boats ranging from 4-7 fully air-conditioned double bed cabins all with own W/C and shower. The boats have a large air-conditioned salon, ideal for a siesta during long hot summer afternoons. All gullets include experienced staff along with high class chefs which means that apart from experiencing the beauty of the true Mediterranean, You will be able to taste the long forgotten traditional recipes left to us by our ancestors.
Life Onboard
Good sailing, good food, and friendly company surrounded by nature in a serene atmosphere - that is what chartered sailing is all about. A sailing holiday aboard a gullet appeals to all age groups. It can be as relaxing or as energetic an experience as desired.
You may leave everything to the skipper and crew or choose Your own daily route. One day you may decide to read a book while sipping a drink and lying on deck.
A more active day may include windsurfing, fishing, waterskiing or when the yacht is at anchor in a beautiful Dalmatian secluded cove, or You might want to go snorkeling among the fish.
While docked you may wish to spend the morning touring a nearby ancient Dalmatian town or have a special shore evening in a traditional trattoria on one of the thousand Dalmatian islands.